Research program intended to help Canadians survive sudden cardiac arrest shows promising results
Survival rates double in study sites, thousands of lives likely saved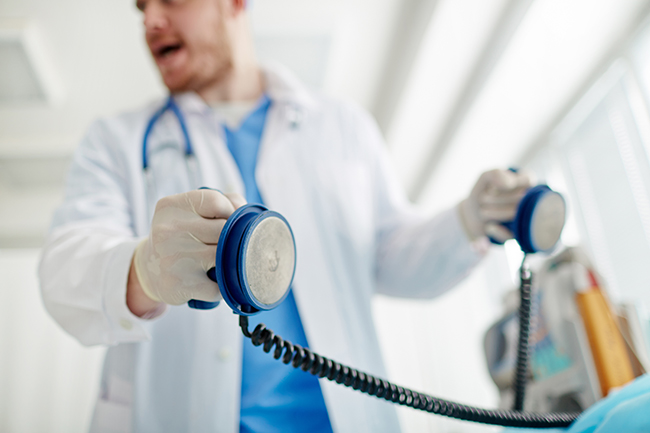 A research initiative that aims to save the lives of thousands of people who go into cardiac arrest outside of a hospital setting is celebrating its one-year anniversary, and the preliminary results are promising.
The Canadian Resuscitation Outcomes Consortium (CanROC), which began last December, is a five-year research initiative designed to improve survival rates for people who go into cardiac arrest at home or in a public place other than a hospital. The project received $3 million in funding from the Canadian Institutes of Health Research and the Heart and Stroke Foundation.
The project addresses a pressing need: an estimated 40,000 cardiac arrests occur outside of a hospital setting in Canada each year, with between 80 and 85 per cent of these cases happening outside the home in a public setting. Although in some communities the survival from out-of-hospital cardiac arrests approaches 15 per cent, in most communities, fewer than 10 per cent of people will survive and be discharged from the hospital.  
CanROC researchers intend to improve those odds. "There are approximately 1,800 people in British Columbia and Toronto who are alive today who would have been left for dead" were it not for this program, says Dr. Laurie Morrison, a researcher at St. Michael's Hospital in Toronto who is one of three scientists leading CanROC. The project's other leaders, Dr. Ian Stiell at the Ottawa Hospital, and Jim Christenson at the University of British Columbia, report similarly promising results.
The program, which was initially run out of Toronto, Ottawa and Vancouver, has now expanded to Saskatoon, Winnipeg, Prince Edward Island and Montreal. Discussions are underway to open new CanROC sites in Alberta, Nova Scotia, New Brunswick, and Newfoundland and Labrador.
Through this program, researchers are studying ways to make ordinary Canadians more willing and confident at performing CPR, maximizing emergency response times and standardizing approaches to care. The study is also investigating new resuscitation drugs, tools and techniques, with the goal of keeping a patient alive. For example, one study funded as part of CanROC explored which method for delivering chest compressions during CPR was the most effective.
While there are still four years left in the funding program, researchers are cautiously optimistic: cardiac arrest survival in CanROC sites have doubled, and a more rapid resuscitation response has meant fewer incidences of brain damage among survivors of cardiac arrest. The program also seems to be having the desired effect on members of the public, as the number of bystanders willing to perform CPR has increased to more than 40 per cent. The program of research has also shown that, in CanROC sites, more bystanders are prepared to use external defibrillator devices.
The program isn't just targeted at members of the public. Since it started, CanROC has created a virtual network of 20,000 first responders, who will have access to the latest research on and consolidated data regarding out-of-hospital cardiac arrests, as well as improved training informed by CanROC research.
"CanROC is an important program of research for our Institute and CIHR; their research is improving patient outcomes both here and around the world," says Dr. Brian H. Rowe, the Scientific Director of the Institute of Circulatory and Respiratory Heath at CIHR and the major sponsor of the CanROC network.
Stay tuned, as CIHR will be checking in with CanROC researchers to track their progress as this life-saving program continues and expands to new cities across the country.
Date modified: