Food systems and health equity in an era of globalization
Think, Eat and Grow Green Globally (TEG3)
Institution
University of British Columbia
Nominated Principal Investigator
Program team

Co-Principal Investigators

Jaime Breilh, University of Andina Simon Bolivar, (Ecuador)

Co-investigators

Laurie Chan, University of Ottawa
Andrea Cortinois, University of Toronto
Ramiro Merino, Universidad Catolica del Ecuador (Ecuador)
Anne-Marie Nicol, Simon Fraser University
Margot Parkes, University of Northern British Columbia
Tim Takaro, Simon Fraser University
Hannah Wittman, University of British Columbia
Annalee Yassi, University of British Columbia

Knowledge users, staff, and students

Marie Jose Breilh, Universidad Andina Simon Bolívar (Ecuador)
Ben Brisbois, University of British Columbia
Juan Gaibor, Universidad Andina Simon Bolívar (Ecuador)
Chris Hergesheimer, University of British Columbia
Deepthi Jayatilaka, Provincial Health Services Authority, British Columbia
Karen Lockhart, University of British Columbia
Sally McBride, University of British Columbia
Julia Russell, University of Northern British Columbia
Bjorn Stime, University of British Columbia
Larry Stoffman United Food and Commercial Workers Union
Bayron Torres, Universidad Andina Simon Bolívar (Ecuador)
Joaquin Vasquez, UROCAL (Ecuador)
Anelyse Weiler, Simon Fraser University
Alex Zapatta, SIPAE (Ecuador)
Research objective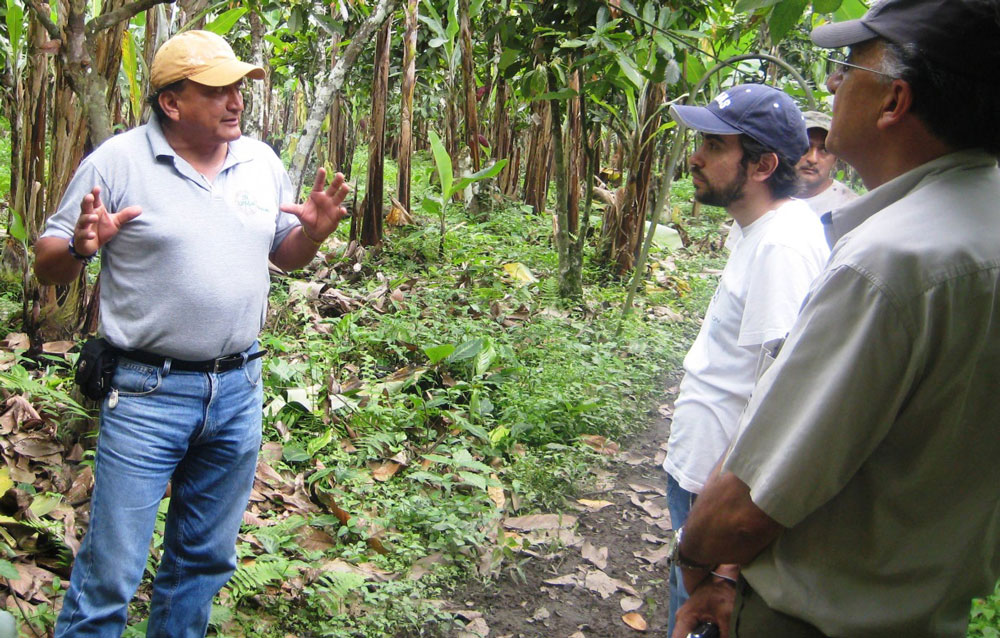 Member of an organic banana small producer cooperative knowledge user group partner explaining to Ecuadorian and Canadian research team members how agro-ecological principles can be applied to banana production.
Building on and expanding established networks of researchers, communities and research-users engaged from different perspectives in Canada and Ecuador, the team proposes a research program to:
Deepen understandings of pathways to health and health equity associated with global food systems; and
Strengthen capacities for implementing effective interventions.
Approach
Five interlinked projects connected to feasible interventions that can effect positive change. Recognizing the global character of our food system, each project features distinct components in Canada and Ecuador as well as North-South interventions.
Study 1: Meta-narrative synthesis to critically review existing knowledge
Study 2: Promoting health equity in schools: Attitudes and practices regarding food
Study 3: Health impacts associated with food production
Study 4: Food security and food sovereignty in rural, remote and indigenous communities
Study 5: Knowledge translation and the science of knowledge translation
Examining pathways to health equity associated with export crop production (bananas in Ecuador; blueberries in British Columbia) to identify interventions for promoting health constitutes one of the research project themes of the TEG3 research program.
Project Update: Can language affect the ways that we think about health equity?
Dr. Spiegel and his colleagues are trying to better understand the pathways between food systems and health equity through their research in Canada and Ecuador.  The "Think, Eat and Grow Green (TEG3)" research program especially provides an opportunity to compare and combine perspectives interculturally to inform theory.
To better understand the relationship between health equity and food, the project team began their work by undertaking an extensive multidisciplinary literature review of these concepts in the English and Spanish literature, focusing on two key terms: food security and food sovereignty. While the commonly used term food security is defined as existing "when all people, at all times, have physical, social and economic access to sufficient, safe and nutritious food which meets their dietary needs and food preferences for an active and healthy life", the term food sovereignty is rights-oriented and captures the broader idea of people having control over options, also including how  food is produced and distributed.
Following their English-language review rooted in framings of "social determinants of health", the team developed a conceptual framework that illustrates eight distinct pathways (both physical and social) through which the food system influences health equityFootnote 1. This representation identifies how human health is embedded in how we produce, distribute, market, consume and dispose of food. It goes beyond the familiar links between food systems and human health (e.g. nutrition) to include occupational hazards, cultural influences and environmental change. The review of Spanish-language literature (where "food sovereignty" has been over 4 times more frequently addressed), however, suggests that the  multi-faceted relationships between food and health that are rooted in an individual's social context are better appreciated by applying the framing of critical processes of "social determination"Footnote 2. This alternative framing more strongly emphasizes the social engagement of affected populations and structural forces in relation to social, environmental, political and health dimensions of social justice (which are identified as 4S's in Spanish).
This work demonstrates that framings can powerfully influence the nature of interventions that can be pursued to promote health equity. For example, one TEG3 study underway is examining health equity and sustainability consequences of agro-ecological alternatives to conventional pesticide-intensive methods for producing export crops (bananas in Ecuador and blueberries in British Columbia) – and related policy options.  By appreciating why "language matters" in our framings, the TEG3 program further seeks to illustrate the value of providing a bridge for effective mutual learning in collaborations linking researchers and knowledge users in the "Global North" and "Global South".
Associated links
Selected publications
Spiegel JM, Breilh J, Beltran E, Parra J, Solis F, Yassi A, Rojas A, Orrego E, Henry B, Bowie W, Pearce L, Gaibor J, Velasquez P, Concepcion M, Parkes M. Establishing a community of practice of researchers, practitioners, policy-makers and communities to sustainably manage environmental health risks in Ecuador [ PDF (220 KB) - external link ]. BMC International Health and Human Rights. 2011; 11(Suppl 2):S5.
Date modified: