Up close with Canada's "brainiest" student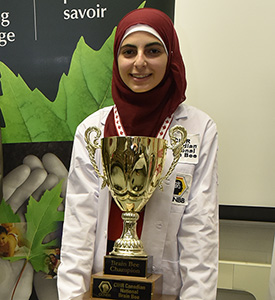 Nooran AbuMazen shares her experience of winning the national Brain Bee competition
On May 28th 2016, 15 exceptional high school students from across the country were tested on their knowledge of neuroscience and the brain through a variety of challenges in the CIHR Canadian National Brain Bee.
The winner, Nooran AbuMazen from Waterloo, Ontario, will represent Canada at the 2016 International Brain Bee competition in Copenhagen, Denmark from June 30 – July 4, 2016. This 17-year-old student from Waterloo Collegiate Institute will compete against winners from up to 30 countries.
Nooran took the time to speak with us about her experiences in the competition so far.
Interview with Canada's winner
Transcript
Mr. David Coulombe: This is David Coulombe for CIHR's Health Research in Action News. Neuroscientists specialize in the study of the nervous system and the brain – the most complex living structure in the known universe. Over the years, they have made enormous progress, but there are still many questions to answer, making this an extremely important area of future investigation.
The Brain Bee competition, developed as part of Brain Awareness Week, is designed to attract bright young minds to the study of neuroscience and stimulate excitement about brain research.
Our guest today is Nooran AbuMazen from Waterloo Ontario, winner of the 2016 CIHR Canadian National Brain Bee competition. Nooran, congratulations and welcome to the interview.
Ms. Nooran AbuMazen: Thank you.
Mr. David Coulombe: So, maybe the first question for you: What made you decide to participate in the competition in the first place?
Ms. Nooran AbuMazen: Well, my friends did it last year so I saw them studying for it and I also saw the study materials and it looked really, really interesting. So this year when I had some free time, I decided to join.
Mr. David Coulombe: So how did you prepare, exactly, for this competition?
Miss. Nooran AbuMazen: I started off by printing all of the materials that they had on the website. I read through it, highlighted everything important and then I made notes on it. Then I went through memorizing everything like I would do for a regular subject. I also did online neuroscience quizzes that I found which also helped me prepare for it. And for the anatomy section, I went to the Anatomy Lab at the University of Waterloo and practiced anatomy on the brains over there.
Mr. David Coulombe: And what was your favourite part?
Ms. Nooran AbuMazen: Honestly, the entire competition was really, really fun. I enjoyed everything. It was put together very well. But if I had a favourite part I would probably say the anatomy section because it was really nice to see all the studying pay off. I could recognize almost all of the pins that they had in the [brain] sections.
Mr. David Coulombe: Last question for you Nooran: So why do you think learning about neuroscience is important?
Ms. Nooran AbuMazen: When I went through the study material, they talked a lot about diseases related to neuroscience, so it's very clear that a lot of diseases in the body are related to the brain. So if we want to begin to find cures for these diseases we have to first understand the brain. To me, that's why learning about the brain is so important.
Mr. David Coulombe: Congratulations once more and thank you for the interview.
Ms. Nooran AbuMazen: Thank you so much.
Associated links
Date modified: