CIHR@15 – Canadian Institutes of Health Research Annual Report 2014‑15
Providing Stewardship and Accountability
CIHR Governing Council
CIHR reports to Parliament through the Minister of Health. Its Governing Council comprises up to 18 Canadians who have been appointed by Order in Council to renewable three-year terms. Council members represent a wide range of backgrounds and disciplines, reflecting CIHR's broad mandate and vision.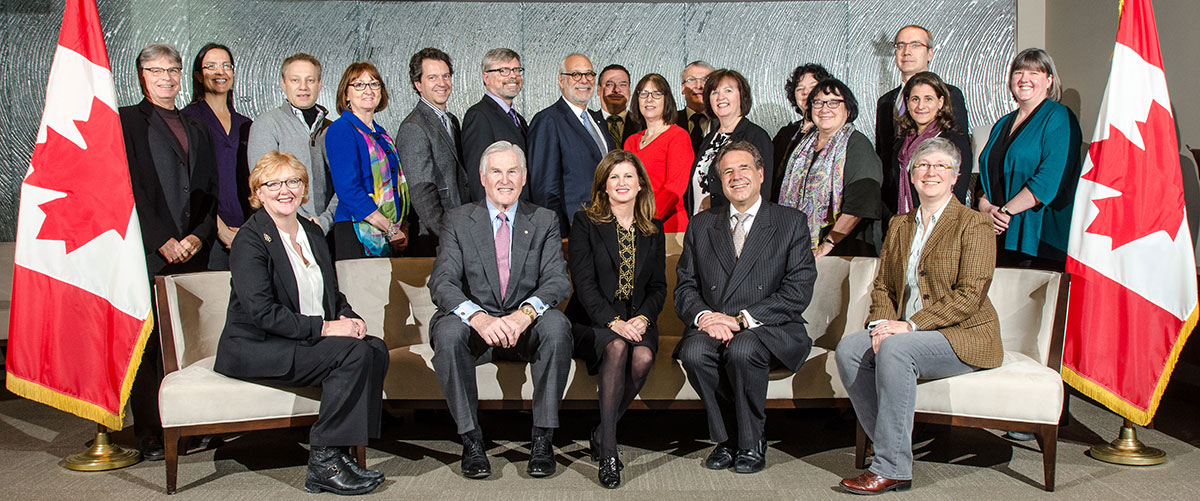 Dr. Alain Beaudet
(Chair)
President
Canadian Institutes of Health Research
Dr. Nadine Caron
Assistant Professor
Northern Medical Program
University of British Columbia
Mr. George Da Pont
(until January 20, 2015)
(Ex Officio, Non-Voting)
Deputy Minister
Health Canada
Ms. Maura Davies
(until December 1, 2014)
President and Chief Executive Officer
Saskatoon Health Region
Acting CEO (as of December 2014)
Canadian Patient Safety Institute
Ms. Michèle Fortin
President and CEO
Télé-Québec
Montreal, Quebec
Dr. Paul E. Garfinkel
Staff Psychiatrist
Centre for Addiction and Mental Health
Professor, Department of Psychiatry
University of Toronto
Dr. Lawrence Jardine
(since February 26, 2015)
Medical Director, Pediatric
London Health Sciences Centre
Mr. Simon Kennedy
(since January 21, 2015)
(Ex Officio, Non-Voting)
Deputy Minister
Health Canada
Dr. Terry Klassen
CEO and Scientific Director
Children's Hospital Research Institute of Manitoba
Head, Department of Pediatrics, College of Medicine
Faculty of Health Sciences
University of Manitoba
Dr. Paul Kubes
Professor and Director
Snyder Institute for Chronic Diseases
Faculty of Medicine
University of Calgary
Dr. Amy Ornstein
(since June 13, 2014)
Pediatrician and Medical Director
IWK Health Centre Child Protection Team
Division Head of General Pediatrics
Dalhousie University
Ms. Chris Power
(since June 13, 2014)
President and CEO
Capital Health
Nova Scotia
CEO (as of March 2, 2015)
Canadian Patient Safety Institute
Dr. Bernard Prigent
(until June 22, 2014)
Vice-President Medical Affairs, Europe
Pfizer Global Innovative Pharma Business
Walton Oaks, Surrey UK
Dr. Terrance P. Snutch
Professor and Canada Research Chair
Michael Smith Laboratories
Departments of Psychiatry and Zoology and
Brain Research Centre
University of British Columbia
Ms. Lori Turik
Executive Director
International Centre for Health Innovation
Richard Ivey School of Business
Western University
Dr. Lori West
(since March 6, 2014)
Professor of Pediatrics, Surgery and Immunology
University of Alberta
Director
Alberta Transplant Institute
The Honourable Michael H. Wilson
(Vice-Chair)
Chairman
Barclays Capital Canada Inc.
Toronto, Ontario
Dr. Terry-Lynn Young
(since June 13, 2014)
Professor, Faculty of Medicine
Memorial University of Newfoundland
CIHR Institutes
CIHR is composed of 13 innovative Institutes. Each Institute is headed by a Scientific Director who is a leader in his or her field. These Institutes bring together all partners in the research process – those who fund research, those who carry it out and those who use its results – to share ideas and focus on what Canadians need: good health and the means to prevent and fight diseases.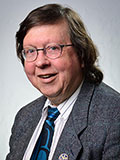 CIHR Institute of Aboriginal Peoples' Health (CIHR-IAPH)
CIHR-IAPH fosters the advancement of a national health research agenda to improve and promote the health of First Nations, Inuit and Métis peoples in Canada through research, knowledge translation and capacity building. Our pursuit of research excellence is enhanced by respect for community research priorities and Indigenous knowledge, values and cultures.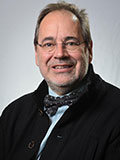 CIHR Institute of Aging (CIHR-IA)
As Canada's population ages, there is a growing need to transform longer life expectancy into optimal health and wellness, and improved care for elderly people facing complex health challenges. CIHR-IA supports research to advance these priorities and provides leadership for the CIHR Dementia Research Strategy and the Canadian Longitudinal Study on Aging. CIHR-IA's goal is to enable the creation of knowledge that can be used by all stakeholders to support high-impact, evidence-based approaches that benefit Canada's aging population.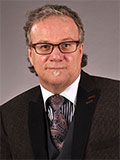 CIHR Institute of Cancer Research (CIHR-ICR)
CIHR-ICR is committed to research that will make a difference for the health and well-being of Canadians faced with cancer. The Institute's initiatives focus on prevention, early detection and monitoring, as well as on tailored therapies and care strategies that increase survival, minimize late effects and improve quality of life. CIHR-ICR continues to collaborate with all levels of partners to further these strategies, reduce the number of deaths caused by cancer, increase our understanding of this disease and improve outcomes.
CIHR Institute of Circulatory and Respiratory Health (CIHR-ICRH)
CIHR-ICRH supports research on heart, lung, brain (stroke), blood, blood vessels, sleep and critical care. Conditions relating to these areas represent the major health burdens facing Canadians. By studying the factors that influence health and disease, including the roles of environment and behaviour, we can improve our ability to prevent, diagnose and treat these conditions. CIHR-ICRH is dedicated to supporting the research programs, projects, infrastructure and career development needed to achieve these goals.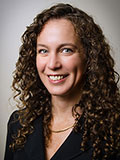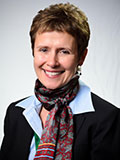 CIHR Institute of Gender and Health (CIHR-IGH)
Dr. Cara Tannenbaum, (since January 1, 2015), University of Montreal
Dr. Joy Johnson, (until December 31, 2014), University of British Columbia
CIHR-IGH is more than a funding Institute. We are an international leader in fostering research that explores how sex and gender influence health. Through our commitment to knowledge translation, we facilitate the application of these research findings to address pressing health challenges facing men, women, girls, boys and gender diverse people. We are multidisciplinary. We are international. We are shaping science for a healthier world.
CIHR Institute of Genetics (CIHR-IG)
CIHR-IG supports research on the human and other genomes and on all aspects of genetics, basic biochemistry and cell biology. New advances in genetics and genomics, and in the understanding of how cells work, pose challenges to our health care system and often raise complex ethical, legal and social issues. CIHR-IG is addressing these challenges to develop solutions that benefit Canadians.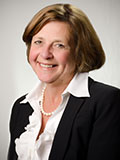 CIHR Institute of Health Services and Policy Research (CIHR-IHSPR)
CIHR-IHSPR focuses on the challenge of ensuring that high-quality health care is available to all those who need it, when and where they need it, and that Canada's health care system is responsive, efficient and sustainable. We do so by fostering research excellence and innovation in the area of health services and policy research, supporting the brightest minds and catalyzing the application of research findings to policies, practices and programs that provide real-world benefits.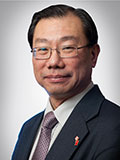 CIHR Institute of Human Development, Child and Youth Health (CIHR-IHDCYH)
CIHR-IHDCYH is dedicated to the process and integration of developmental, physical and mental well-being throughout the life cycle from a population perspective. By facilitating partnerships and working to accelerate the translation of new knowledge, CIHR-IHDCYH funds and promotes research that ensures the best start in life for all Canadians and the achievement of their potential for optimal growth and development.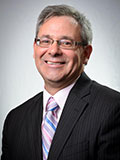 CIHR Institute of Infection and Immunity (CIHR-III)
CIHR-III strengthens and coordinates research on the immune system and infectious disease. We support research on emerging threats such as antimicrobial resistance, and responses to threats such as pandemic preparedness and vaccine development. We support knowledge creation and the integration of knowledge into the control and prevention of chronic disease, in areas including HIV/AIDS, hepatitis C, inflammation, human microbiome, transplantation, human immunology and immunotherapy, and environment and health. CIHR-III works to facilitate the impact of infection and immunity research.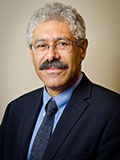 CIHR Institute of Musculoskeletal Health and Arthritis (CIHR-IMHA)
Musculoskeletal (MSK) health is critical for promoting the physical activity needed to maintain mobility and overall health. Disorders such as arthritis and osteoporosis can trigger inactivity, degeneration and loss of productivity. Similarly, oral health and skin health affect overall health and well-being. Through the promotion of innovation, translation, networking and capacity building, CIHR-IMHA is addressing the needs and gaps in the MSK, oral and skin research communities, with a particular focus on initiatives that promote physical activity and mobility.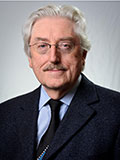 CIHR Institute of Neurosciences, Mental Health and Addiction (CIHR-INMHA)
From diseases of the central nervous system to addiction, to mental ill health, and to the five senses through which we interpret the world, CIHR-INMHA is concerned with discovering how the brain works and with seeking new ways of using this knowledge to improve the treatment of brain-related illnesses, which are recognized internationally as leading causes of life-long disability.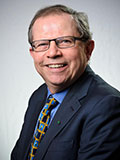 CIHR Institute of Nutrition, Metabolism and Diabetes (CIHR-INMD)
CIHR-INMD supports research that addresses the causes, prevention, screening, diagnosis, treatment, support systems and palliation of a wide range of conditions associated with hormone, digestive system, kidney and liver functions. CIHR-INMD has identified three strategic priorities that will guide the Institute from 2015 to 2018: food and health; environments, genes and chronic disease; and obesity and healthy body weight.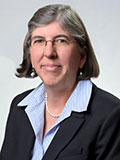 CIHR Institute of Population and Public Health (CIHR-IPPH)
CIHR-IPPH supports research on how complex biological, social, cultural and environmental interactions determine health and health gradients, and what population health interventions are optimal to prevent disease and improve health and health equity. Our research informs practices, programs, policies and resource distribution strategies within the health and other sectors both in Canada and globally.
CIHR Executive Management Team
CIHR's Executive Management Team provides leadership and decision making for strategic, corporate policy and management areas that support and contribute to the strategic directions set out by the Governing Council.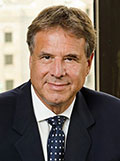 Dr. Alain Beaudet
President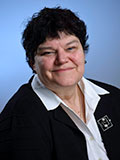 Dr. Jane E. Aubin
Chief Scientific Officer
Vice-President, Research, Knowledge Translation and Ethics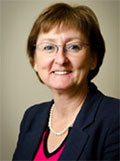 Ms. Thérèse Roy
Chief Financial Officer
Vice-President, Resource Planning and Management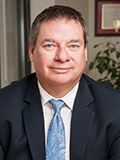 Mr. Michel Perron
Vice-President, External Affairs and Business Development
(since September 2, 2014)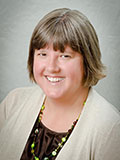 Dr. Kelly VanKoughnet
Associate Vice-President, Research, Knowledge Translation and Ethics
Date modified: