Research Profile – Growing Older in a Digital Age
Canadian researchers are seeking ways to help people with age-related illnesses use digital devices.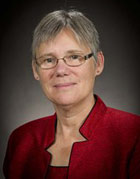 Dr. Wendy Young
Communication devices such as home computers, tablets and Blackberries have become an integral part of daily life. However, evidence shows that as we get older, we tend to stop using these devices.
In general, the number of older adults using computers has increased. But age-related diseases can make it difficult, if not impossible, to use such devices, according to Dr. Wendy Young at Memorial University in Newfoundland.
A fair bit is known about how decreased vision affects people's ability to use devices, but we're just beginning to understand the impact of other conditions.
For example, arthritis can lead to swollen joints that make typing on a keyboard difficult and painful, and people with chronic pain may find that actions such as typing or using a mouse can trigger pain. The number of people affected by these conditions is large, with musculoskeletal disorders and chronic pain affecting 50% of adults over 65 and 70% of those over 75.
Yet, it's not impossible to use these devices if people can get some sort of assistance, according to Dr. Young.
From a health perspective, the Internet offers various benefits for older adults and the elderly. Online health resources can help empower them to take charge of their health, and communications tools such as Skype, email, Facebook and even online games can help them keep in touch with friends and family.
"Many elderly become homebound, so online social interactions are becoming increasingly important for this population. Otherwise, they can become socially isolated and depressed," says Dr. Young.
Researchers at Memorial University are working with researchers in the United Kingdom who spearheaded the Sustaining Information Technology Use by Older People to Promote Autonomy and Independence(Sus-IT) project. This three-year international study is exploring why older adults with chronic pain and reduced mobility decrease their use of digital technology – something called 'digital disengagement'.
To get a look at trends in Canada, researchers launched Sus-IT Canada, and began by looking at data gathered by Statistics Canada. Dr. Young and her team found that 10% of Canadians over 50 years of age reported they had not used the Internet in the past 12 months.
And this is only the start of the work Sus-IT Canada is doing. Experts from a variety of fields, ranging from people involved in elder care services to health care researchers to community groups are working together to better define what older people need in order to stay online and connected.
According to Dr. Young, Sus-IT Canada is helping define what is needed in terms of technologies, interventions, assistance, types of programs, affordability and environmental changes in homes and institutions.
"Many elderly become homebound, so online social interactions are becoming increasingly important for this population. Otherwise, they can become socially isolated and depressed."
– Dr. Wendy Young, Memorial University
Date modified: